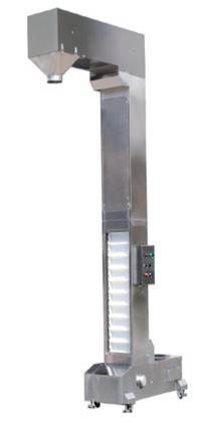 Bucket Elevator
Product Description
Bucket Elevator:
Bucket Elevator has demonstrated themselves for vertical transport of numerous and various mass materials for a considerable length of time. This system can lift were reliably created previously and empower the most noteworthy conceivable passing on limits with the greatest focus separates today. Chain basin lifts are the favored passing on frameworks for the vehicle of hot mass materials and coarse-grained materials. With its focal chain pail lifts, our business offers proficient and demonstrated Bucket Elevator notwithstanding for the most noteworthy passing on limits. A high-limit chain can lift with focal chain are especially reasonable for the vehicle of hot, granular and rough mass material.
Bucket elevators is use for vertical transport of many and diverse bulk materials. As an Industry leader, om Engineering successfully established the belt bucket elevator technology in the market since many years.

We are developing Belt bucket elevators with highest possible conveying capacities with maximum out put.

Chain bucket elevators are the preferred conveying systems for the transport of hot bulk materials etc.
For any detail, please send us inquiry.