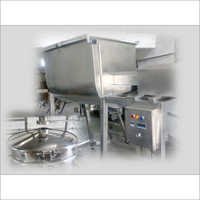 Ribbon Mixer Machine
Product Description
Without any difficulty of cleaning to low vitality utilize, Ribbon Mixer Machine is a proficient arrangement for food makers working with powder material. This machine utilizes a shortsighted plan and structure with a set number of segments. The blender comprises of a lace instigator, two end plates, and a drive unit. Because of the clear plan, the shaft of the Ribbon Mixer Machine can be effortlessly cleaned and investigate and upkeep are advantageously performed. Also, the smooth surface and adjusted edges guarantee any remaining deposits can be effectively expelled. Our blender is intended to be effortlessly cleaned and kept up. The blender enables a laborer to effortlessly clean the machine from the head.
Special Features

Double Helical agitator with single speed for uniform dry mix and perfect wet mix.
The general structure Ribbon Blender has non-contact parts made of customer requirement.
The GMP models non-contact parts are made of stainless steel 304Work volume of 50KG to 1500 KG with bulk density of 0.50 grams/cc.
Contact parts made of customer requirement.
The contact parts of the blender have a mirror finish
All the non-contact parts are polished in matt finished in GMP Models.
In GMP model, all the safety guards and covers are made of Stainless steel 304
Special Demand Features

You can choose to get the parts of your blender designed with Stainless steel 316
We can customize a variable speed drive or a double speed stirrer as per your choice.
Being finest Ribbon Blender Manufacturers, we even create flameproof models on special customer demand.